Trussville Sports Complex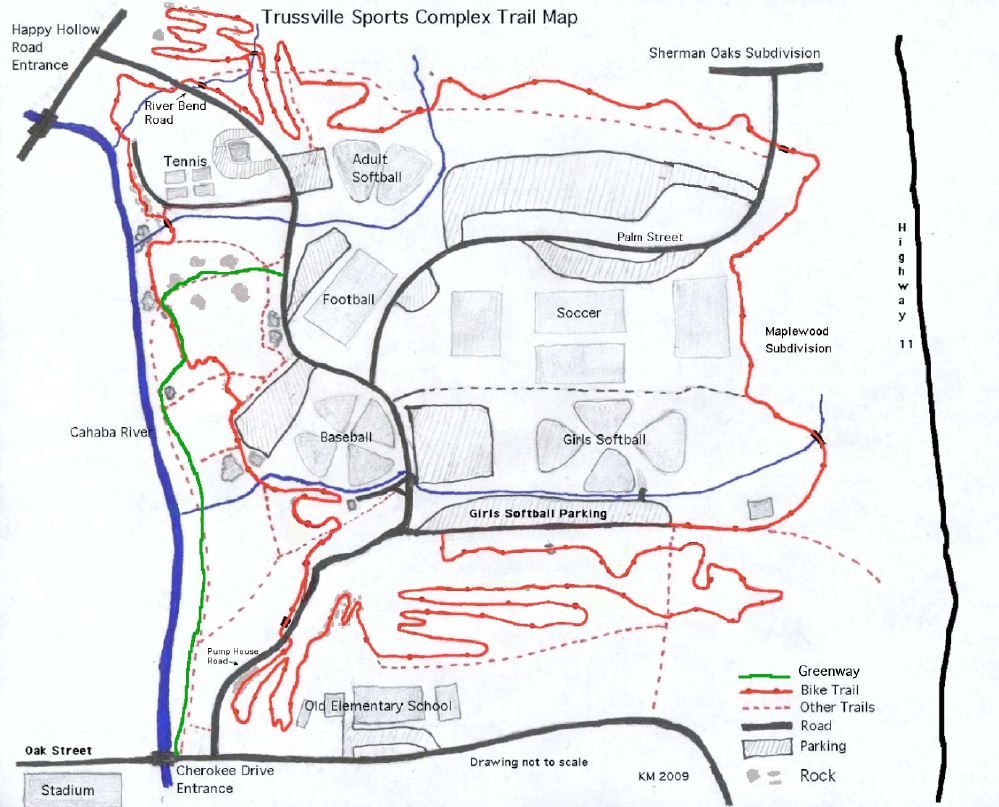 Experience a really great lunch time ride, after work ride, or just come and see how many loops you can ride on a Saturday or Sunday, on compact, twisty trails around the Trussville Sports Complex. Chances are these trails have something for everyone: heart pumping climbs, slick rocks, gnarly roots, obstacle crossings, skinny bridges, and some really great scenery along the Cahaba River; all 20 minutes from Birmingham right off I-59. In July 2008, BUMP added the Wisteria Valley, Yellow Ball, and Big Mountain Trails. In October of each year BUMP hosts the Dead Dog Mountain Bike Race, the season finale of the Alabama Mountain Bike Series, a USA Cycling sanctioned race that brings in 100 to 200 racers and spectators into the park.
Description: Approximately 4.75 miles of trails with more to come. Riding in either direction is permitted and no ride would be complete without riding it in both directions. Another great feature is that, regardless of where you are, you'll never be far from your starting point, no matter where you choose to start.
Skill Level: Intermediate to advanced, sprinkled with short technical sections.
Details: The trail runs around the perimeter of the sports complex for a total of about 4.75 miles of single-track and double-track trails, with a short section adjacent to the Cahaba River. Kiosks are located at road crossings, each has a trail map. If run in the clockwise direction from the trailhead at the girl's softball field parking lot, the trails run in order of the Skillet Trail, Wisteria Valley, Dead Dog Trail, Big Mountain Trail and the Pump House Trail, finishing back in the softball parking lot.
Future Plans: Work is under way to expand the trails, build a changing room, and to create a re-route section to incorporate the new Trussville Greenway path that is presently under construction.
Trail Maintenance: These bike trails are built by and are maintained by BUMP volunteers. Any issues encountered with the trail should be reported to BUMP at www.bump.org, so that they can be addressed as soon as possible.
Directions to Start:
From Birmingham take I-59 to Exit 141 Northeast of the city.
Go East on Chalkville Road for about 0.9 miles.
Left onto Oak St. (look for brown Sports Complex sign)
Through first stop sign and past stadium.
Cross bridge over Cahaba River.
Park entrance on left at stop sign.
Parking: Ride parking is on the right about 1/4 mile from the park entrance. Turn right at Girl's softball parking sign (Note: Parking is allowed at all of the parking lots within the complex.) Trailhead is just off the access road above the upper softball parking lot; trail entrance is next to kiosk or at any of the road crossings.
Park hours: Everyday, 6 A.M. – 11 P.M. Night riding is permitted.
Available Facilities: Bathrooms, water, and paved parking.
Want to be a part of BTC?