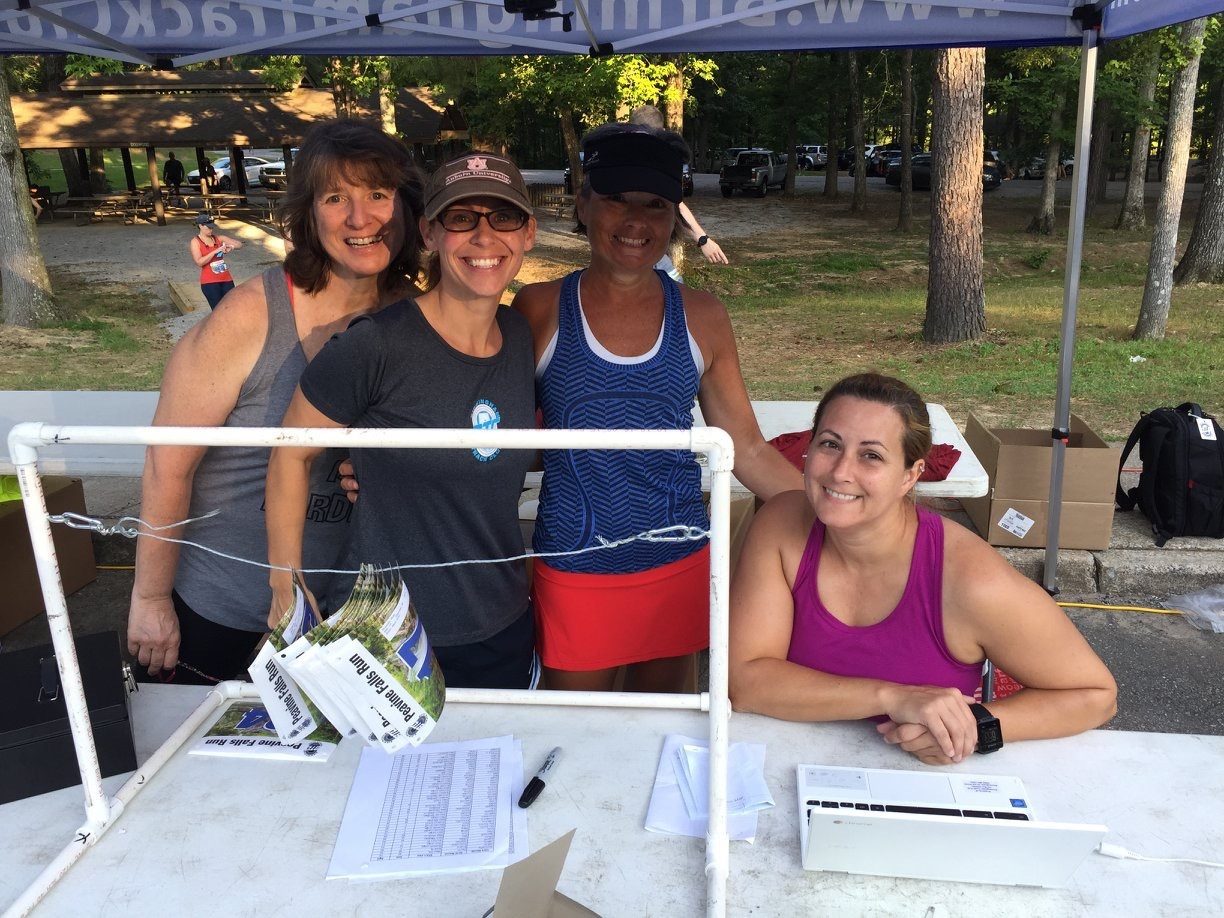 The mission of the Birmingham Track Club is to support and promote running in our community. Numerous volunteer activities are available to accomplish this goal. Below is a sampling of opportunities and ways to be involved.
We need volunteers to assist with BTC sponsored races such as Peavine Falls, The Vulcan Run, Statue 2 Statue, and more. Duties may include packet pick-up, set-up, water stops, finish line, post-race parties, and more.

We need volunteers to promote the BTC by working at membership tables at other area races and expos.

We have several BTC committees in need of members.
For these opportunities and more please E-mail our Volunteer Coordinator.
For years, the BTC has been fortunate to have hard working volunteers at races and social events – we could not put on these great events without our volunteers! We appreciate our volunteers so much, and we want to ensure their continued support. Even though our volunteers don't just work for rewards, it is nice to be able to offer them!
To reward our hard-working volunteers, the BTC adopted a "tiered" system for rewards that involved tangible items that we all appreciate – BTC branded items! And to add a fancy name to it, we call it "BTC Bucks"! Volunteers won't earn real bucks, but they will reach tiers based on how many "shifts" or "events" they work. Because some volunteers work an entire event while others work a shorter shift, we have assigned credit accordingly.
A "shift" is defined as a two to three-hour volunteer session as determined by the Volunteer Coordinator and can include (but is not limited to): packet pickup/packing, working registration table, food set up, race set up or breakdown. An "event" is defined as the entire "day" session of a race event or packet pickup (all shifts on that one day). This system relies on the Volunteer Coordinator/Race Director to document time spent for earning bucks and climbing the tiers! Lastly, as you volunteer, please make sure you utilize Run Sign Up (if available), which is the system we use to track volunteer rewards.
Rewards can be earned at BTC sponsored events and include the Resolution Run, Adams Heart Run, Statue to Statue, Peavine Falls, The Vulcan Run, social events and any other events where BTC volunteers are solicited.
Again, we appreciate and value our volunteers and want to continue to utilize your talents to support our races and events! Please let us know what questions you have and when YOU will start earning your BTC bucks!!
Kim Benner, BTC volunteer coordinator: [email protected]
*Reward items are subject to change based on availability
*Only current BTC members are eligible to earn and receive awards
*Awards are cumulative
Work 3 shifts or 2 events
Work 6 shifts or 3 events
Work 8 shifts or 4 events
BTC individual one-year membership
Work 12 shifts or 6 events
BTC fleece ¼ zip pullover
Want to be a part of BTC?